Our Mission
Our mission is to provide our clients with Peace of Mind as they develop a life and death plan that is personalized to their needs.
My Journey into Elder Law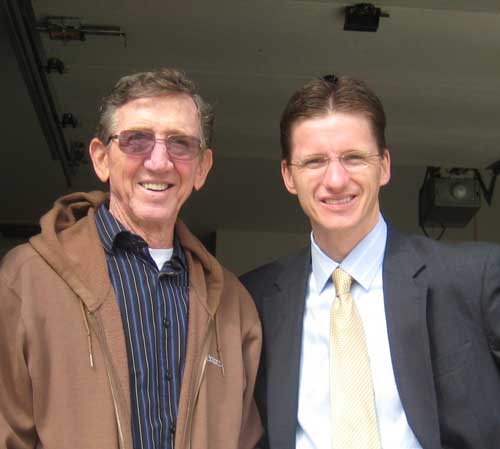 "Quite a few years back, a person who attended one of my workshops asked me "how does a 30-something-year old lawyer end up focusing his practice on elder law?" My short answer to him was, "Out of love for my dad." The full answer requires a bit more explanation. I am the youngest of five boys in my family. My mother was diagnosed with cancer when I was 18 years old. She fought a good fight for about two years; undergoing every radiation and chemo treatment available but ultimately the battle was lost and she died at the age of 58. My dad and I became closer than ever. We were "bachelors" living together as I finished out my undergraduate degree in accounting.
Then, I decided to go to law school. Now I know what you're thinking…an accountant…who goes to law school…yep, that is the dictionary definition of a nerd! I studied very hard in law school and graduated in the top two percent of my class. That enabled me to get a job out of law school at a very "fancy, dancy" Chicago law firm. There were more than 100 lawyers in the law firm that I worked for! I worked in the litigation group where, in simplified terms, we represented big companies, in big lawsuits, for big dollars. This provided wonderful experience but ultimately, my wife Amy, and I (high school sweethearts) decided to come back to be closer to family and friends in Quincy.
I moved back to Quincy and worked for the Appellate Court in Springfield for two years before returning to private practice. With my accounting background, the "estate planning" work seemed like a logical fit. Then, in 2001, my dad had a stroke. His therapy was going fairly well but the hospital discharge planners came to us and said "Good news…your father is recovering well and will be discharged in a few days. The bad news is that he may not be well enough to return home." At this point, we needed to assess our options for dad's care. Would he need to go to a nursing home? Would he need to go to an assisted living facility? Would he be able to return home with in-home assistance? I found myself running around Quincy obtaining applications at nursing homes, visiting the local Veterans Home and exploring home care options. This was a frustrating process and it occurred to me that if I was having this much difficulty, others must be having the same experience. It was at that point that I decided to include elder law in my estate planning to help families facing these same issues. Fortunately, my dad was able to return home and, with some in-home assistance, continued with his recovery. Many families I work with are not so fortunate. I am dedicated to assisting families on the elder care journey by resolving complicated issues and providing real world solutions.